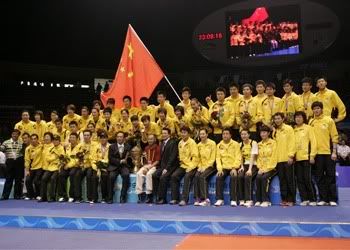 Chinese team who wins 2009 Sudirman Cup
Guangzhou (5/17) - China won their seventh Sudirman Cup after crushing Korea 3-0. China never lost even 1 point from the qualifying group to the final.
Korean number one Lee Yong-dae and Lee Hyo-jung played against Chinese Zheng Bo and Yu Yang. The Chinese pair never played together before. Zheng had been Ma Jin's partner and Yu was He Hanbin's partner. Because He/Yu often lost to Lee Yong-dae/Lee Hyo-jung, Chinese coach Li Yongbo changed Yu's partner.
In the first game, the Korean mixed doubles won 21-18. Zheng/Yu gained the second game with the score 21-19 as Lee Hyo-jung created many mistakes. In fact, Lee/Lee could have won the second game when they led 18-17.
The 2008 Olympic gold-medalists' performance decreased in the third set. They lost 16-21. This match was the longest match of the 2009 Sudirman Cup final matches. Lee Yong-dae and Lee Hyo-jung failed to give Korea 1 point after losing 21-18, 19-21, and 16-21 in 1 hour 12 minutes.
In the men's singles match, world number three Lin Dan subdued Korea's Park Sung-hwan easily in straight sets, 21-14 and 21-18. Lin Dan had been predicted to win for China in this match. China led 2-0.
Lee Yong-dae, now pairing with Jung Jae-sung in men's doubles, played in the very determining match. If they won, Korea could chase China. If they lost, China would have Sudirman Cup quickly by winning 3-0.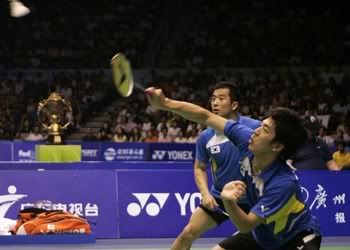 Lee Yong-dae returns a shot
However, Lee Yong-dae was tired after playing in the mixed doubles. The former world number one pair was downed 14-21 by seventh-ranked Cai Yun/Fu Haifeng. In the second game, Lee Yong-dae/Jung Jae Sung improved and won 21-17. Finally, Cai/Fu beat Lee/Jung 21-19.
China 3-0 Korea
Zheng Bo/Yu Yang
def.
Lee Yong-dae/Lee Hy0-jung
18-21, 21-19, 21-16
Lin Dan
def.
Park Sung-hwan
21-14, 21-18
Cai Yun/Fu Haifeng
def.
Lee Yong-dae/Jung Jae-sung
21-14, 17-21, 21-19
Wang Yihan vs. Hwang Hye-youn
Yu Yang/Du Jing vs. Lee Hyo-jung/Lee Kyung-won