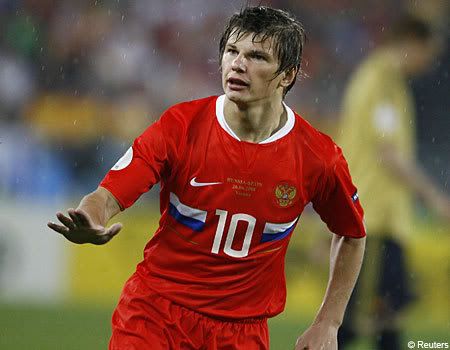 Premier League outfit Arsenal have finally confirmed the signing of Russia playmaker Andrei Arshavin.
The Gunners agreed a deal for the player with his former club, Zenit St Petersburg, just minutes before yesterday's 5pm transfer deadline and had to wait until today for the move to be ratified by the Premier League.
That has now been forthcoming and the 27-year-old has joined for an undisclosed fee, signing what the north Londoners call a "long-term" contract.
Arsenal were forced to delay naming Arshavin as their player until late this afternoon as it was one of a number of transfers awaiting approval by the Premier League board because of administrative delays caused by the severe snow which crippled London's transport networks yesterday.

Zenit St. Petersburg receives £16.5 million for the transfer.

"Arsenal is one of the leading football clubs in the world, with a group of fantastic young players and a great manager," declared Arshavin, who is likely to be allowed some time to build-up full match fitness after the Russian domestic season finished in November.
"I am looking forward to making the Arsenal supporters happy and helping this great club win trophies.
"I am happy to be an Arsenal player, it was my dream."
Arshavin has always been keen to join the Gunners, and is reported to have been prepared to take a pay cut to push through the deal after flying into London by a privately-hired jet.
The Russian, who starred at Euro 2008, revealed the prospect of playing under Wenger played a big part in his decision.
"I moved because I like the Arsenal style, Wenger as a coach and I like some of their players," Arshavin said.
"Every time I talked to Arsene Wenger, he said: 'I want you to come to Arsenal'. He had confidence in me."
Arshavin, who has played 41 times for his country, admitted he was glad such a drawn-out transfer had finally been successfully completed.
"It was a very hard few days for me, but now it doesn't matter because I am a Gunner. It is great."
Arshavin, who will wear the number 23 shirt, is unlikely to make his debut in Sunday's north-London derby against Tottenham at White Hart Lane.
The Russian believes it will take him up to two weeks to return to full fitness, but insisted he will have no problems adapting to the English game.