Some Chinese players withdrew from Denmark Open which has started on October 20, including former top-seeded singles players, Lin Dan and Wang Lin. Lin Dan is Denmark Open champion in 2003, 2004, and 2007.
Defending champion and local favorite, Peter Gade, replaces Lin Dan's seed in the tournament. Because of China's withdrawal, the tournament did a redraw and new seeding.
But still there are few Chinese players who compete. Wang Yihan is seeded one in the women's singles, replacing Wang Lin. Sun Junjie, Tao Jiaming, Guo Zhendong, Xu Chen, and Zhang Yawen.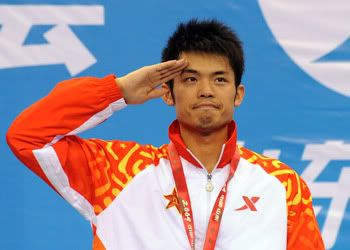 Lin Dan beat Bao Chunlai, becoming the first becoming the first player in National Games history to defend his title
picture from badzine.info