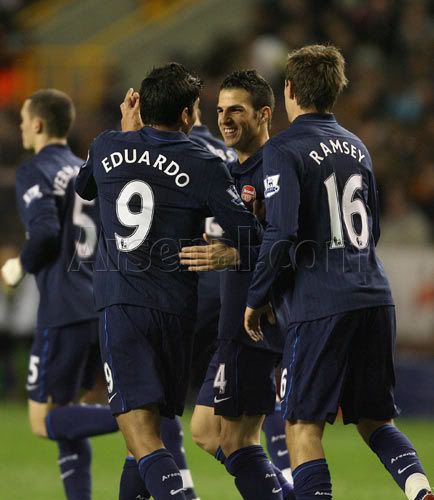 Arsenal temporarily goes up to second place in Premier League standings after a 4-1 win in Wolverhampton's Molineux Stadium, extending its unbeatable run in the last 13 matches.
The home side put the Gunners under pressure for the first twenty minutes, yet their ineffectual ball-clearance nestled two goals into their own net.
First, Ronald Zubar poked Cesc Fabregas' corner kick into his own net in the 28th minute. Then, only seven minutes later, Jody Craddock headed Eduardo's flipping shot past his own goalkeeper, Wayne Hennessey.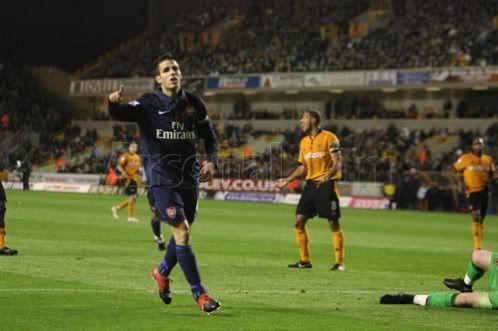 In the additional time, Fabregas continued Robin van Persie's assist to make it 3-0.
In the 65th minute, Andrei Arshavin gunned his fourth goal in the Premier League this season from quite a distance. His ball passed a crowd of Wolverhampton players in front of the goal before piercing Hennessey's net. Arshavin was then replaced by Samir Nasri in the 74th minute.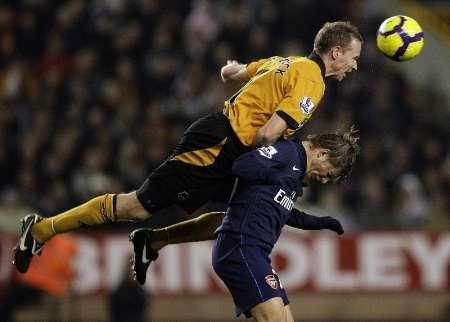 Jody Craddock climbs over Andrei Arshavin - reuters.com
Wolves gained a consolation goal from Craddock in the 88th, marring Arsenal's hope for a clean sheet.
Though the Gunners obtained three points from their 4-1 victory, Fabregas and the manager Arsene Wenger voiced their disappointment of conceding a goal.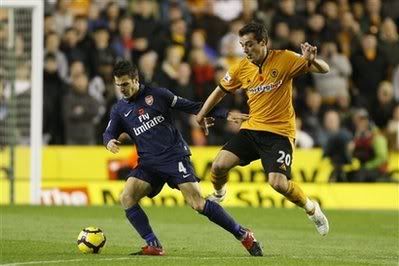 The Arsenal captain told ESPN, "It was disappointing to concede from a set-piece like that. They played well. We were not at our best but still managed to score four."
Likewise, Wenger said, "We conceded a goal, but overall it was a good performance. They made a strong start - but once we got ahead, we controlled it.
"I'm pleased, because we had the Champions League game in midweek and we won today 4-1.
"Our belief is there; we want to give our best in every game. We have great potential and we can go from strength to strength."

This win gives a warning to the current Premier League top two, Chelsea and Manchester United, which clash on Sunday. Robin van Persie admitted that Arsenal hoped for a draw,even though it means Arsenal will remain in the third position with 25 points (Chelsea has 27 points already, and Manchester United 25), because they are benefitted by having a game in hand.

Wenger's statement seemed to confirm van Persie: "We were already out of it (the title race) last year. Two years ago, we were very close to winning it, and people forget that. And last year we were out very early because in 14 games we had lost five. Now it is very different. We are in a strong position because we have a game in hand. Let's keep strength in our belief, keep humility, and enjoy our game."

espnstar