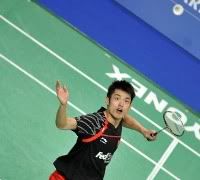 Four times All England champion Lin Dan advances into French Open final with a 21-19, 23-21 win over countryman Chen Jin in a 36-minute match. He will take on Taufik Hidayat in the final. The Indonesian defeated Peter Gade 22-20, 21-14.
Indonesia ensure a title from mixed doubles as their two pairs have a final clash. Nova Widhianto/Lilyana Natsir worked hard to surpass Olympic bronze medalist He Hanbin/Yu Yang 25-27, 21-14, and 21-17 in an hour and 17 minutes. It was the longest match of the day. On the other hand, seventh-seeded Hendra Aprida Gunawan and Vita Marissa gained a straight-set victory over Tao Jiaming/Zhang Yawen 22-20, 21-17.
In the men's doubles, Markis Kido and Hendra Setiawan seal a final spot through a 21-19, 21-17 win over Sun Junjie/Tao Jiaming. The world number one pair who are looking for their first European title of this year will meet last week Denmark Open champions, Koo Kien Keat and Tan Boon Heong.
Kien Keat and Boon Heong played a repeated match against Carsten Mogensen and Mathias Boe of Denmark, whom they overcame in Denmark Open final last week. The same result occured as the second seeds ousted Mogensen and Boe in straight sets, 21-18 and 21-19.
China will certainly bring home two women's titles. In the singles, third seed Wang Yihan will challenge top seed Wang Lin after shuttering France's last hope, Pi Hongyan, 21-13 and 21-11. Wang Lin surmounted other European Chinese-born player, Yao Jie, 22-20 and 21-8.
In the women's doubles, Cheng Shu/Zhao Yunlei walk straight to the final without a match after Yu Yang and Du Jing withdrew. Their next opponents will be Ma Jin and Wang Xiaoli who eliminated Indonesian Greysia Polii/Nitya Krishinda comfortably 21-4 and 21-18.