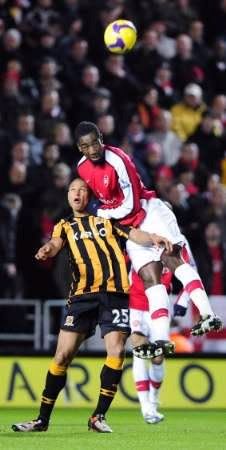 Arsenal's Johan Djourou challenges Hull City's Daniel Cousin during their English Premier League soccer match in Hull January 17, 2009.

REUTERS/Nigel Roddis (BRITAIN).
Arsenal took revenge on Hull City 3-1 (Saturday, 1/17) when they visited KC Stadium. At first, it seemed a draw when, in the 65th minute, Daniel Cousin equalized Emmanuel Adebayor's first goal he had scored in the 30th minute. Nevertheless, Samir Nasri and Nicklas Bendtner relieved the Gunners after scoring in the last nine minutes (Nasri 82', Bendtner 86').
"When they scored to make it 1-1 I was a bit worried. But we stuck together and played some good football," Robin van Persie told Setanta Sports 1.
"The win was really important because this was a difficult away game. The first game was in our minds, it was tough for us to come back."
Other Barclays Premier League Saturday (1/17) results:
Manchester City 1-0 Wigan
Chelsea 2-1 Stoke City
Bolton 0-1 Manchester United
West Bromwich 3-0 Middlesbrough
Sunderland 1-2 Aston Villa
Blackburn 3-0 Newcastle
Hull City 1-3 Arsenal
Sunday (1/18) fixtures:
West Ham vs. Fulham
Tottenham Hotspurs vs. Portsmouth
Monday (1/19) fixtures:
Liverpool vs. Everton
(COME ON EVERTON!)
http://www.espnstar.com/