News from Qatar ExxonMobil Open: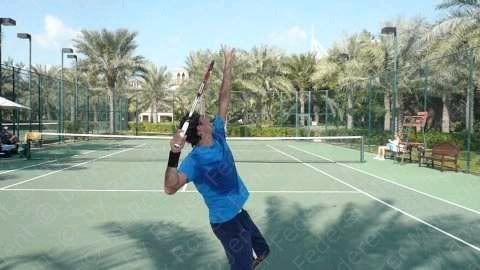 The tournament begins tomorrow. After Roger Federer's failure in Abu Dhabi, he seeks his first title this year here. If Federer and top seed Rafael Nadal pass all their opponents, they will meet in the final for the first time after Wimbledon 2008, where Federer lost in five sets. This will be a good opportunity for Federer's revenge. Besides them, third-seed Andy Murray and fourth-seed Andy Roddick will heat the tournament atmosphere. Hope you're on top of your performance and win it, Rogi!
See official draw from
http://qatarten.msoutlookonline.net/Qatar%20Open%202009%20Forms/Maindraw%20Singles.pdf
Hopman Cup, Perth
France was too tough for Asian Hopman Cup winners Taiwan. France, represented by world number seven Gilles Simon and France's best women's singles player Alize Cornet, overcome Taiwan 3-0.
In the first match, eighteen-year-old Cornet gave the first point for her country after defeating Hsieh Su-Wei 6-4, 6-4. This is Cornet's debut in this mixed tournament.
"It's a good feeling. It was really tough because I just arrived yesterday in Australia so I'm not really in the time zone because it's three o'clock in the morning in France. I'm playing in the night and sometimes I was completely out of breath," Cornet said.
Next, Simon beat Lu Yen-Hsun 6-3, 7-6 (6). He took the first set easily, but the fighting Lu made it harder for Simon to take the second set. He tied the score 3-3 and forced Simon in a tie-breaker.
Simon and Cornet subdued the Taiwanese pair 6-4, 7-6 (9), completing the first two matches.
Today, Russia played against Italy and win 2-1. Dinara Safina won 7-5, 6-3 over Flavia Pennetta, and her brother Marat Safin defeated Simone Bolelli 7-6 (5), 6-4 on the back of 14 aces. It was the first time for the Safins to play together in Hopman Cup, and the Italians took their revenge by winning the last match 7-5, 4-6, 7-6 (10/2). They still have an opportunity to reach the final.
http://hopmancup.com/?id=1
FA Cup (1/3) results: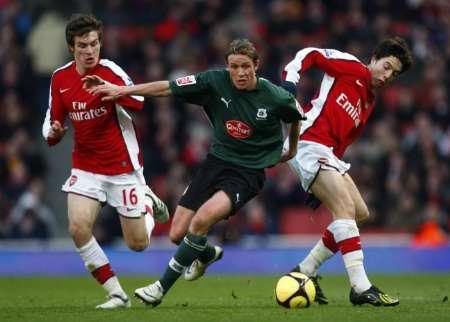 reuters: Aaron Ramsey and Samir Nasri challange Plymouth's Chris Clark
Hartlepool 2-0 Stoke City
Cardiff 2-0 Reading
Kettering 2-1 Eastwood Town
Macclesfield 0-1 Everton
Hull City 0-0 Newcastle
Coventry 2-0 Kidderminster
Chelsea 1-1 Southend
Arsenal 3-1 Plymouth (van Persie 47', 85', Bendtner/Gray o.g. 50')
Forest Green 3-4 Derby County
Charlton 1-1 Norwich
Leicester 0-0 Crystal Palace
Watford 1-0 Scunthorpe
Ipswich 3-0 Chesterfield
West Brom 1-1 Petersborough
QPR 0-0 Burnley
Sheffield Wednesday 1-2 Fulham
Milwall 2-2 Crewe
West Ham United 3-0 Barnsley
Sunderland 2-1 Bolton
Torquay 1-0 Blackpool
Portsmouth 0-0 Bristol City
Manchester City 0-3 Nottingham Forest
Middlesbrough 2-1 Barrow
Preston 0-2 Liverpool
(
http://www.espnstar.com/football/fa-cup/results/
)