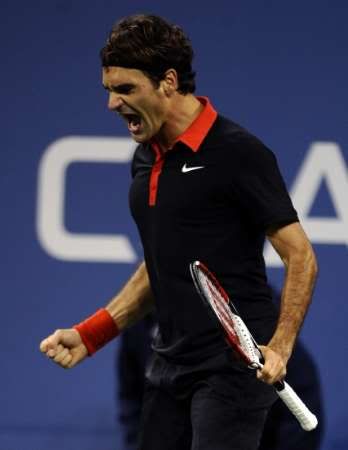 New York - Tennis world number one Roger Federer reached his 22nd semi-final of Grand Slam, crushing Robin Soderling of Sweden 6-0, 6-3, 6-7 (6), and 7-6 in US Open quarter-final. This is their third meeting in 2009 Grand Slams. Federer leads the head-to-head 12-0 after this win.
The world number one made it a round dozen in victories over the Swede, reaching the last four after extending his unbeaten run at Flushing Meadows to 39 matches.
28-year-old Federer took the first two sets quickly in just 59 minutes. However, Soderling fought hard to gain the third set, forcing Federer to a tie-break. Roger quickly moved to 4-0, only for Söderling to suddenly came alive, getting back to 5-5 and finally even taking the set. Federer served 28 aces, compared to Soderling's 11.
Federer will take on Serbian Novak Djokovic in the semi-final, like 2008 US Open semi-final. At that time, Federer won 6-3, 5-7, 7-5, and 6-2.
Earlier Djokovic beat 10 seed Fernando Verdasco 7-6 (2), 1-6, 7-5, and 6-2.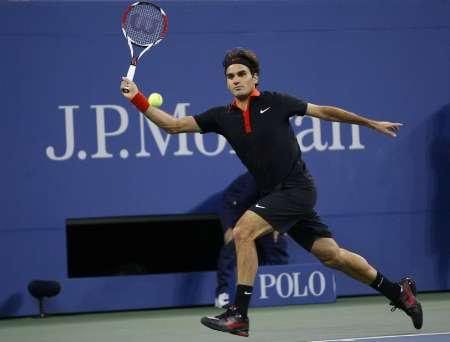 Federer chases a forehand to Soderling
"This feels great," Federer said. "It was so close towards the end and it's just a great relief to come through because Robin just got better and better as the match went on.
"I knew it was going to be tough but the beginning was a bit too easy and all of a sudden he found his way into the match and showed what a great player he really is."
Federer responded about his record of consecutive Grand Slam semi-final appearances: "It's not (a record) I aimed for, that's for sure but it's probably one of the greatest records for me in my personal career.
"I'm just happy it keeps on going. I'm healthy and I guess that's most important because that's what has allowed me to play well at majors and I'm in for a shot again to defend my title so that's fantastic."
"I'm sure it (a match against Djokovic)'s going to be a tough match, I'm looking forward to it," said Roger about facing Djokovic on Saturday.
Del Potro Books Semi-final Place
Six-seeded Juan Martin del Potro progresses to the semi-final after beating Croatian Marin Cilic 4-6, 6-3, 6-2, 6-1. "I don't know how I turned it around but I kept fighting until the end and with the crowd it was so beautiful on centre court so I'm very happy," said the young Argentinian.
He will play against the winner of Rafael Nadal vs. Fernando Gonzalez. The match is delayed due to rain.
pictures by reuters