2008 Olympic gold medalist Lin Dan showed who was superior when he overpowered top seed Lee Chong Wei 22-20, 15-21, and 21-7 in China Masters semi-final. Even though the first two sets were tough, Lin Dan gained the control in the third set and led 10-6. After 11-7, Chong Wei never grabbed a point.
It was Lin Dan's third win over Chong Wei this year after his wins at All-England and the Sudirman Cup in Guangzhou. "We have to accept the fact that Lin Dan is the better player," said Malaysian coach Rashid Sidek.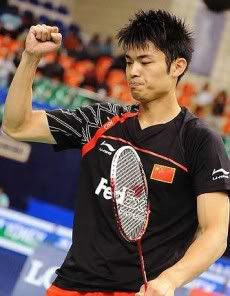 Lin Dan
Lin Dan will meet Thai Boonsak Ponsana in the final. Boonsak is the only non-Chinese finalist after beating world number two Chen Jin 21-16, 4-21, and 21-19.
Other Semi-final (8/19) Results:
Men's Doubles
2-Cai Yun/Fu Haifeng (CHN) def. 8-Cho Gun-woo/Yoo Yeon-seong (KOR) 16-21 21-16 21-15
7-Guo Zhendong/Xu Chen (CHN) def. 3-Choong Tan Fook/Lee Wan Wah (MAS) 21-12 21-19

Women's Doubles
3-Yu Yang/Du Jing (CHN) def. 7-Gao Ling/Wei Yili (CHN) 21-9 21-17
1-Cheng Shu/Zhao Yunlei (CHN) def. 4-Pan Pan/Tian Qing (CHN) 21-11 21-13

Mixed Doubles
Tao Jiaming/Wang Xiaoli (CHN) def. Chen Zhiben/Zhang Jinkang (CHN) 21-15 21-12
Xie Zhongbo/Zhang Yawen (CHN) def. He Hanbin/Yu Yang (CHN) 21-13 26-24

Women's Singles
Wang Shixian (CHN) def. 5-Lu Lan (CHN) 16-21 21-11 21-14
2-Wang Lin (CHN) def. Wang Xin (CHN) 21-13 14-21 21-12

picture and source by thestar