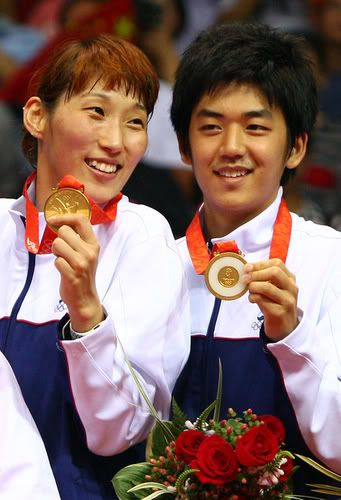 Lee Yong-dae and Lee Hyo-jung displays their gold medals in 2008 Beijing Olympic Games
Tokyo - Korean doubles badminton star Lee Yong-dae will not play in Japan Open Super Series that will start on Tuesday (9/22) due to injury. Yong-dae withdrew from China Masters which ended last Sunday because of this injury too.
Thus, All England 2008 champions, Yong-dae and Jung Jae-sung, and mixed doubles' world number one pair Yong-dae/Lee Hyo-jung pull out of this tournament. This gives an advantage to Indonesian Rian Sukmawan/Yonathan Dasuki and the winner between Devin Lahardi/Lita Nurlita and Yoo Yeon-seong/Kim Min-jung.
Moreover, Chinese best men's doubles pair Cai Yun/Fu Haifeng also withdraw from Japan Open. They did not play in China Masters final too, giving their teammate Guo Zhendong/Xu Chen a walk-over win.
Lee Yong-dae's absence will reduce the competition in both the men's and mixed doubles. And two-times men's singles Japan Open winner Lin Dan will not play in Tokyo.