Roger hits the ball
- Reuters
Roger felled big-serving Croat Ivo Karlovic 7-6 6-3 in just 70 minutes to reach the fourth round in Indian Wells.
"It's always a bit of a success story to get his serve back," Roger said. "It seems like he is serving from the service line. Ivo has really improved a lot over the past few years so it's always nice to get through a tough match like this."
Federer was able to withstand 13 aces by the Croatian, breaking him in the seventh game of the second set to avoid another tiebreaker while never facing a break point himself.
"That's always a good thing," he said of holding serve with ease. "That kind of keeps you a bit relaxed."
Despite his dominant record over Karlovic, Roger said he was always glad to come away with a win against him.
Roger next faces Chile's Fernando Gonzalez (head-to-head: 11:1), who dispatched American James Blake 7-5, 6-1.
rogerfederer.com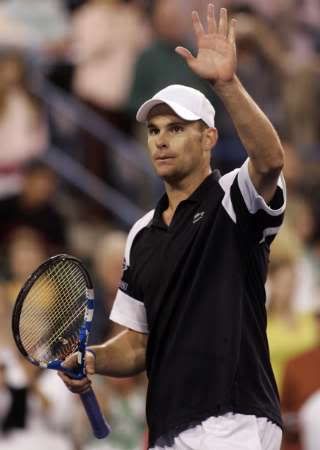 Andy Roddick waves after defeating German Nicolas Kiefer
- Reuters
American Andy Roddick beat Nicolas Kiefer in the third round. His next opponent is David Ferrer of Spain.