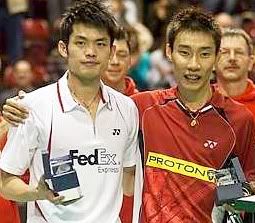 Lin Dan poses with Lee Chong Wei in 2009 Wilson Swiss Open
- thestar
Basel-Lin Dan's hope to win his second title opf the year was diminshed after losing to Malaysian Lee Chong Wei straight sets, 21-16 and 21-16 in 52 minutes.
In the first set, the four times All England champion and 2008 Olympic gold medalist, Lin Dan led 13-9, but Lee Chong Wei chased to be 14-3 for Lin. Lin Dan's point was stuck in 16 while Lee Chong Wei improved and won the first set 21-16.
The same thing happened in the second set. Lin Dan first led the game 5-2, yet Lee Chong Wei equalized to be 5-5 and left Lin Dan behind 9-5. Lin Dan could not passed Lee Chong Wei's points that he was beaten 16-21.