Abou Diaby celebrates his first goal with Eduardo
Arsenal won their second English Premier League match 4-1 over Portsmouth in the Emirates Stadium. Now they are on the top of the standings.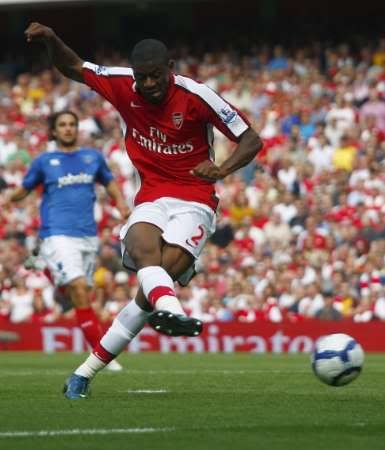 Abou Diaby shoots and scores his second goal
Abou Diaby scored twice at the 18th minute and at the 22nd minute. Portsmouth hoped they could equalize the score as Younes Kaboul's header struck into Manuel Almunia's goal. The score remained 2-1 until half time.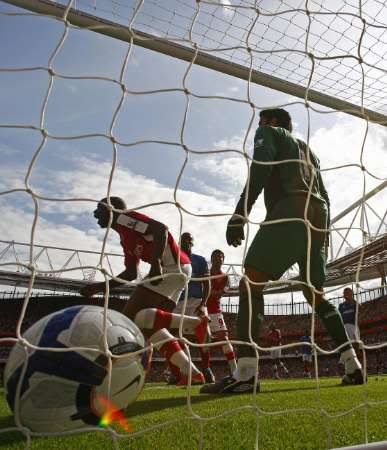 William Gallas scored Arsenal's third goal
William Gallas added more goal for Arsenal at the 51st minute. 19-year-old Aaron Ramsey who substituted captain Cesc Fabregas completed the win 4-1 at the 69th minute.
Andrei Arshavin was substituted by Fran Merida while Eduardo was substitued by Nicklas Bendtner.
This match is another incredible win for Arsenal after overpowering Everton 6-1 in the Premier League opening match. They are very productive scoring as Fabregas, Gallas, and Diaby had scored each 2 goals.
Saturday (8/22) Premier League results:

Hull 1 Bolton 0
Arsenal 4 Portsmouth 1
Birmingham 0 Stoke 0
Wigan 0 Manchester United 5
Sunderland 2 Blackburn 1
Manchester City 1 Wolverhampton 0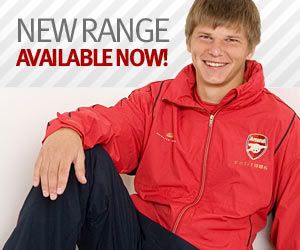 pictures by reuters and arsenal.com