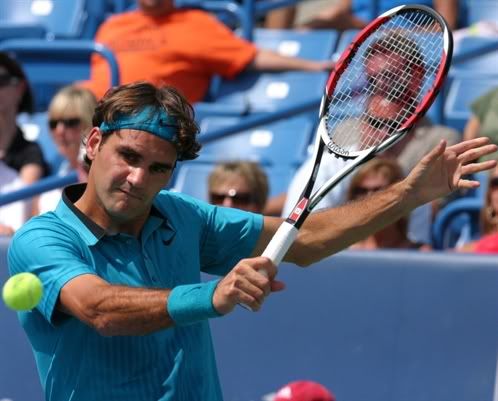 Roger Federer hits the ball against Lleyton Hewitt
Cincinnati - World number one Roger Federer will take on the new world number two Andy Murray in Western & Southern Financial Group Masters semis.
In the first quarter-final match of the day, Murray struggled to beat lucky loser Julien Benneteau 4-6, 6-3, 6-1. The British had been an overwhelming favourite heading into his quarter-final tie, but found himself staring at a shock exit when he conceded his first set of the week 6-4 and then went 2-0 down in the second.
However, the third seed responded brilliantly with three breaks of serve to level the match and then stormed through the third set to prevail 6-1.
Murray admitted afterwards that a mammoth 53-shot rally in game three of the second set, which ended with Benneteau missing a smash, had been the turning point.
Meanwhile, Federer comfortably won over former world number one Lleyton Hewitt 6-3 and 6-4.
"My expectations were 'so so', let's say," he told Sky Sports Xtra. "Because of the twin girls, the focus was elsewhere for a few weeks.
"I practised hard, obviously... I wouldn't have come over to the North American tour without expectations.
"It's good, the number of matches I've had now. I'm feeling okay so far and hopefully I can keep going and playing well."
Top seed Federer needed just 69 minutes to see off Hewitt, who was clearly struggling throughout with a right knee injury.
"I didn't pay attention to his knee," said the Swiss. "I just thought he had not a very good day at the office.
"He made quite a few unusual mistakes for him. Maybe he was trying to go for more than he had to because of the knee, he was sort of obliged to.
"From my side, I think I played a solid match. I don't think it was the best match we've played against each other. It would be a bit strange if we played 22 times and this was our best match.
"I'm happy I was able to came through because Lleyton is always a tough customer."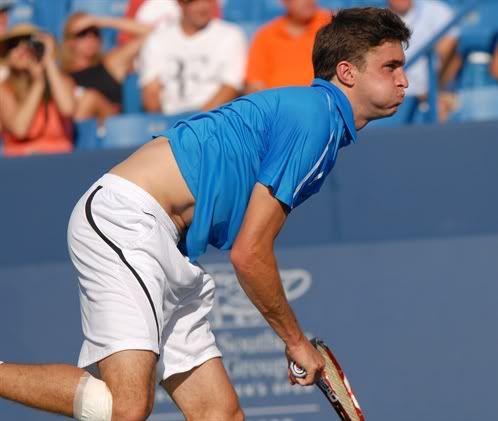 Gilles Simon faces Novak Djokovic
The other semi-final contenders are Novak Djokovic versus Rafael Nadal. So it will be top 4-ranked players in the semis.
Djokovic passed Gilles Simon 6-4, 7-5 and Nadal eased through Tomas Berdych with the same score.
espnstar.com
all pictures from cincytennis.com