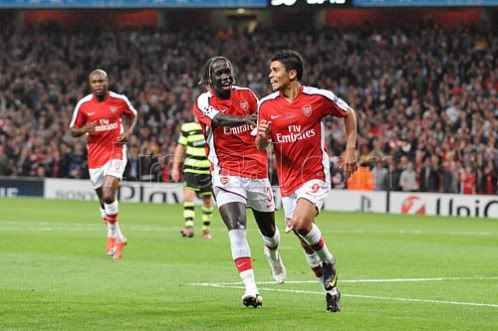 Eduardo celebrates after scoring a controversial penalty kick

London (8/26) - Arsenal sailed to the Champions League group stage with a comfortable 5-1 aggregate win over Celtic.
The Gunners, who had beaten the the Scottish side 2-0 in the first leg in Glasgow, had a happy ending when they won 3-1 at home.
Without skipper Cesc Fabregas, who had a hamstring injury, Arsenal manager Arsene Wenger made a few changes in the starting eleven - putting Robin van Persie and the creative Andrei Arshavin on the bench - and playing Eduardo and Nicklas Bendtner at kick-off.
Arsenal dominated throughout the first half and created several opportunities from Eduardo, Denilson, and Emmanuel Eboue. And the first goal was scored in the 28th minute by Eduardo through a controversial penalty kick.
The Croatian striker tumbled on the penalty area as if he were challenged by the Celtic goalkeeper Artur Boruc, who, it seemed from another angle, hardly touched him. Even so, the referee pointed to the white spot, and the Polish keeper indignantly protested his innocence to no avail. The 26-year-old forward was successful in executing the penalty. 1-0 for Arsenal.
In the 40th minute, Celtic's Scott McDonald seemed to equalize the score when his ball went into the net. However, the assistant referee declared that it was offside. Until the referee blowed the half-time whistle, there were no more goals happening.
Again, in the 53th minute, a golden opportunity belonged to Arsenal. Bendtner's clever backheel from the left flank put Abou Diaby into space in the area. The Frenchman found Eboue, who darted inside Daniel Fox and fired low into the net.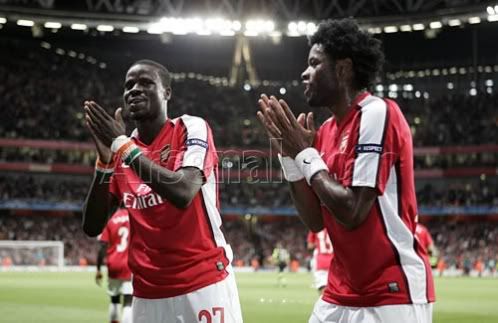 Eboue (left) and Song put their hands together by way of celebrating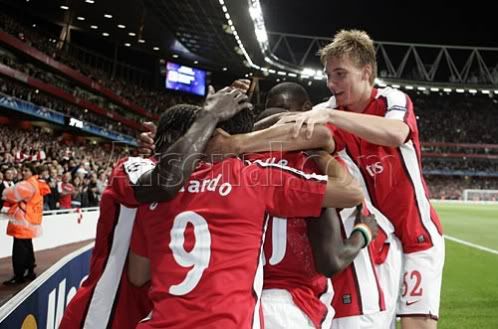 Arsenal players gather to congratulate Eboue
In contrast, Celtic, despite the great energy from their green-white supporters, failed to give opposition that amounted to put Arsenal under pressure.
In the 61th minute, teenager Aaron Ramsey replaced Diaby. Wenger also pulled out Eduardo and Eboue for Jack Wilshere and Andrei Arshavin.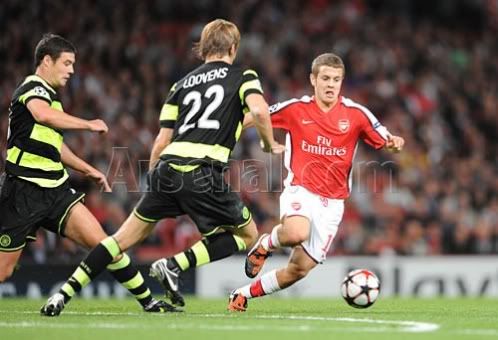 Wilshere controls the ball between two Celtic players
And three minutes later, the little Russian displayed his ingenuity to give his club a 3-0 lead, scoring his first Champions League goal for Arsenal. Denilson stole the ball in midfield then Arshavin exchanged passes with Ramsey before sending a swivelling shot past Boruc and into the corner of the net.
Just before the stoppage time, Celtic midfielder Massimo Donati consoled the visitor's supporters by volleying a spectacular goal on the mostly empty home area.
But Arsenal had inevitably joined the other English clubs in the Champions League group stage.