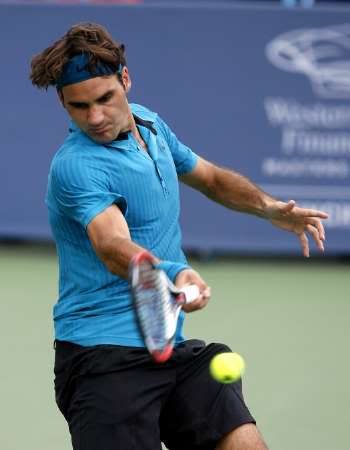 Roger Federer hits a return to Novak Djokovic of Serbia

Cincinnati - World number one Roger Federer once again proved his domination in the men's tennis world when he emerged as the winner of the 2009 Western & Southern Financial Group Masters. It is his first victory after becoming the father of twin girls, and his 16th Masters title of his overall career. The 2009 French Open and Wimbledon champion overpowered Novak Djokovic 6-1, 7-5, to clinch the title.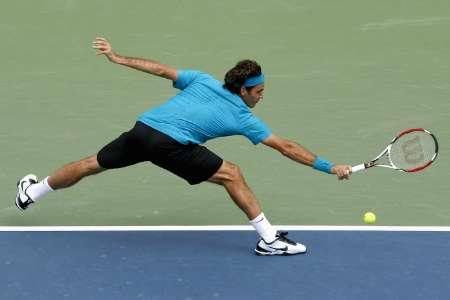 Federer's backhand
Initially, Federer hardly faced resistance as he gave Djokovic only one game throughout the first set. However, in the second set, Djokovic broke in the second game to achieve a 3-0 lead.
The tough Federer fought back to level the score 3-3, and then he broke the Serbian's serve at 5-5.
Serving for the match, Federer did not lose a single point as he created a beautiful ending of the warm-up Masters Series before the US Open, which begins on August 31.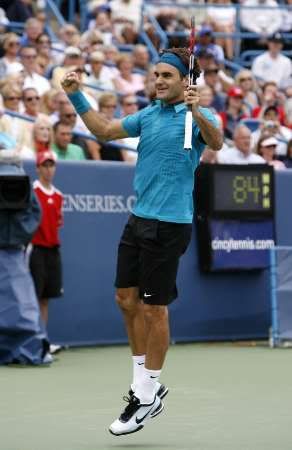 Federer celebrates his victory
"The whole week has been great to me. Congratulations to Novak, he had a great tournament," Federer told Sky Sports.
"I had twin girls a month ago. It's been an unbelievable summer for me - in my personal life and on the tennis court.
"I couldn't be more happy right now. I didn't know if I'd be able to play here because of Myla and Charlene.
"Thanks to them coming earlier - it was good timing! I look forward to coming back here next year."
espnstar.com
pictures by reuters